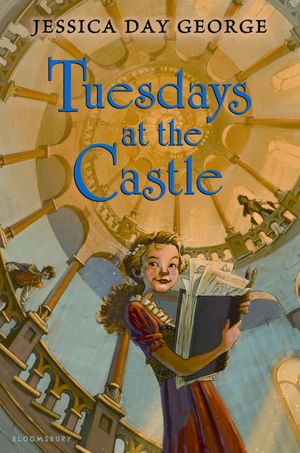 It's when I get down to writing up reviews for books that I realize how broad my interests in books range. From an adult novel about fairies to a kid's book about magical castles and princesses, I think the only defining characteristic I have left is 'fiction', and considering my love of books like Parasite Rex, I'm not sure even that fits...
Tuesdays at the Castle is a book by Jessica Day George about Princess Celie, the youngest daughter of the king and queen of Castle Glower. Castle Glower is magic castle which chooses it's monarch and protects them as it can. Every Tuesday, the castle changes, creating new rooms, new towers, whatever it wants. To Celie, the castle is a friend, and she is the only one who takes the time to map out the changes the castle goes through.
One day, shortly after her parents leave to pick her eldest brother up from his graduation as a Wizard, news comes in that the king and queen were assassinated on their return. But Celie doesn't believe that they're gone, and it's up to she and her siblings to protect the castle and country from a would be usurper and betrayal from within.
This book, while obviously written for a younger reader than myself, has become one of my favorite books. Celie is an adorable but daring heroine with extreme dedication to her cause, and I found myself excited and rooting for her every step of the way.
I absolutely adored Castle Glower, which I feel fits as a character as well because of its obviously sentient nature. The castle is incredibly resourceful and creative, and was pretty much my favorite aspect of the story.
Honestly, there's not a lot I can say about this book other than that it's a great book for pre-teen readers, and it's not your typical princess story. There's a lot of adventure, pranks, and humor to please a young reader of either gender, and indeed, to please readers of many ages. This book isn't the kind of book you spend your time looking for metaphors and deeper themes in, but at the same time, it touches on a lot of older subjects than most young reader books. Subjects like death, love, assassination, and pretty much the full gauntlet of fantasy novel themes are all touched upon in a easy way for younger readers to be able to understand and enjoy.
Overall, I'd say that this books only flaw is that it ends so fast. I feel that it could easily be made into a series, but that it also is perfect as a stand alone book for young readers to tackle on their own, or for parents to read to their kids.
I'd recommend Tuesdays at the Castle to any reader who wants a light fantasy read, regardless of age, either for reading to others or for reading themselves. I'd recommend it to fans of any of